There are no upcoming events.
Past Events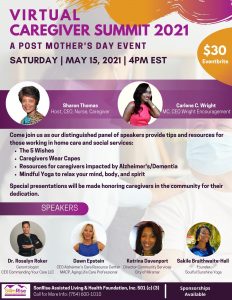 VIRTUAL CAREGIVER SUMMIT 2021
Join us as our distinguished panel of speakers provide tips and resources for those working in home care and social services:
1. The 5 Wishes
2. Caregivers Wear Capes
3. Resources for caregivers impacted by Alzheimer's/Dementia
4. Mindful Yoga to relax your mind, body, and spirit
Special presentations will be made honoring caregivers in the community for their dedication.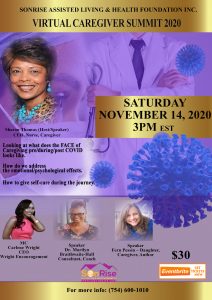 FIRST ANNUAL CAREGIVER SUMMIT (VIRTUAL)
In lieu of the pandemic, our signature fundraiser, the Gala Extravaganza, was replaced with a virtual Caregiver Summit. Knowing that the specific challenges faced by caretakers were heightened with the pandemic, SonRise worked alongside various sponsors and donors to produce a virtual summit fundraiser with the "Caregiver" at the forefront.  The emotional, social, physical, and spiritual well-being of caregivers was addressed. It was overwhelmingly received and appreciated by all with anticipation of the next summit.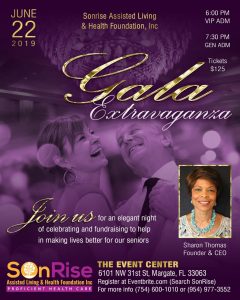 ANNUAL GALA EXTRAVAGANZA FUNDRAISER
Several sponsors partnered with SonRise for our first annual signature event.  Many seniors were sponsored to attend the gala, catered to in grand style, and recognized for their contributions to the community. One senior was the recipient of the SonRise Assisted Living Award, given in honor of the director's grandmother, Agatha Ingram. A skit was performed by a 70 year old actress portraying the challenges faced while living alone at home and then the joy received after moving into SonRise Assisted Living. The night was filled with dancing, prizes, an auction, and lots of fundraising activities!